LIMO – FEMALE DRIVER HUMBLE APPEARANCE
I have the Wedding Package you are looking for with limousine and champagne. An offer that best suits your biggest day to remember for a long time
Let me offer you a wedding transport, arrange so that you can rent a wedding car in the fall and to your beautiful warm winter wedding. Reserve your package offer already now that I have received many requests at canceled aommar wedding this year, there will be great demand up to 8 meters between driver and you. Very good air conditioning ventilation and spray cleaning between each customer Reserve your package
Book Regular Wedding Package 4500 SEK 3 full hours original price 6800 SEK Red carpet in fine weather Just Married Sign to attach to the car (optional) Elegant stylish& romantic Lincoln is this luxurious classic model with its traditionally white color being a very popular and appreciated as wedding transport.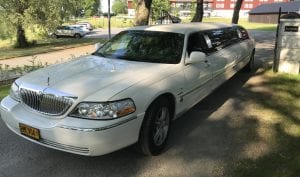 In all the wedding packages bags, jackets can be left in the car you rented so you can relax during the wedding or photography. Is safe and secure with me Annelie or Johan who are Drivers on A Classlimousine. I usually bring my Canon camera and gladly take it with me.! You will get the pictures emailed for free later. Drinking beverages are always in the well stocked bar with ice! Water is included we offer.
WEDDING PACKAGE DIAMOND Including bubble two bottles when you have your transport for a whole four hours from what I will punctually order at your home or at the hair salon If desired, pick up bridal bouquet at the flower shop. Get your prospect with the church to turn around to your wish is your big day! While guests go to the party room, you may want to be photographed or go to the hotel for a while to relax. After four hours, my mission ends with you a memory to remember for a long time. at the wedding party all the guests are waiting and you can make a striking entrance
WEDDING PACKAGE RUBIN The ruby package then you can have limon for 3 hours bubble a bottle included. Get home, salon, hotel or wherever you want. For the journey to the church where I stand and wait until the wedding is finished. After the wedding, guests go to the party for mingle. You want to cruise a little maybe you have a photographer as we go and steer you in a beautiful environment. I have many good places to suggest even in the rain it solves I have my hiding places. For the big wedding party you arrive as stars with style and class.
WEDDING PACKAGE SAPPHIRE With Sapphire package you have 2 hours with the car bubble with glass included. You will be picked up at home, from the hotel or from the church. Photography in a beautiful place and then make a splendid entrance to the party and your guests who meet you as you slip out of the limousine A wonderful and luxurious feeling, a memory you will carry with you for all time.
WEDDING PACKAGE EMERALD You can have Limon for an hour we pick up at the hotel at home or hairdresser. Many have also chosen whether they live near the church to be taken home from until the church Limon awaits and after the wedding a decent cruising so that guests have time to arrive before you to the party. Can also be done with some photo graphing before you can party the night long
Reserve your package
Limousine Children Weddings It is good to let the little lives sit in the back of the car if they become restless when you are being photographed. Both I Annelie and johan Drivers are used to children so you can feel safe!